~ 7 min read
10 Tips to Remove Stains From Your Car Seats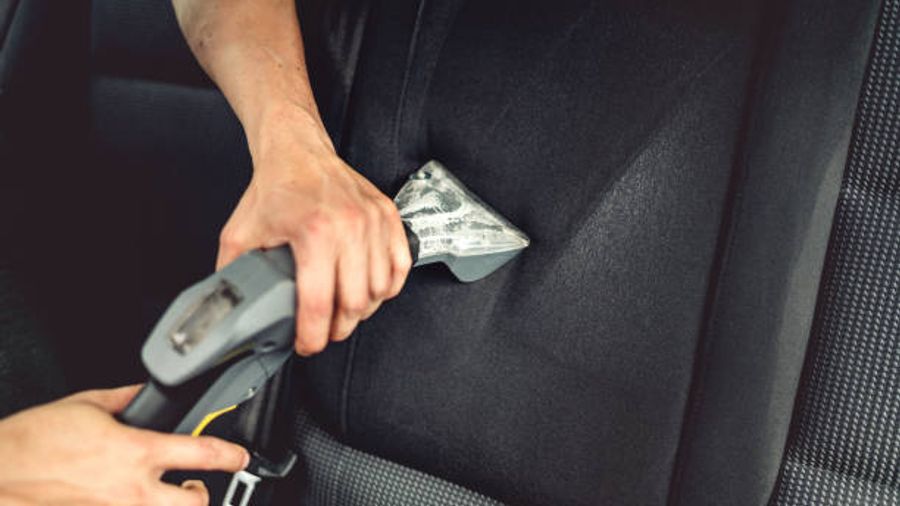 Car seat stains can be ugly, whether from a coffee spillage or a water spot that doesn't disappear. These can affect your car's resale value and make it look embarrassing whenever you pick someone up. They don't impact your car's performance but can dramatically alter its appearance.
Even if the stain is stubborn, most car seat stains can be treated. It's not difficult to treat car seat stains with the right products and elbow grease.
As professional automotive detailers, we've seen many ugly stains on cars. These are our top ten tips for getting car seat stains out. These are the top ten tips to remove stains from car seats.
1. Vacuum Upholstery
No matter what type of leather or fabric your vehicle has, it is essential to vacuum the seats thoroughly before trying to remove any stains. This will ensure that you don't leave behind more dirt and allow you to get into the stained material more easily.
To clean each seat, you can either use a handheld vacuum or the longer attachment of your regular vacuum. You should collect all hair, crumbs, and dust lurking in your car. You should also reach into crevices and seams that could hold years worth of dirt.
After you are done, you can wipe the leather seats with a microfiber cloth. Use a soft upholstery brush if you have fabric seats to finish the sweep.
2. Use a Vinegar solution.
Our first DIY stain-removal tip is to mix one cup of vinegar with one gallon of hot water. The solution can be placed in a container, combined with a splash of dish soap, and applied directly to the stain.
This is the go-to method for professional detailers, even though it may seem odd. Vinegar is more powerful than the car cleaners at the hardware store. It's also natural, which reduces your exposure to toxic chemicals.
Use a soft brush to scrub the area where the vinegar solution was applied. After the stain has faded, you can wash it off with warm water. To allow airflow, dry the area with a microfiber towel.
3. Spray Club Soda
If that doesn't work, go to your bar cart to pick up some club soda. Although it is suitable for minor stains that won't disappear, we don't recommend using it for the most severe or stubborn stains.
Spray a little club soda in a spray bottle and spray directly onto the leather or fabric of your car seat. To rub the soda into your material, use a soft-bristled scrub brush. Wipe the area with an absorbent towel to check if the stain has disappeared. Allow the seats to dry while the windows are open.
4. Steam Clean the Seat
This tip is a great way to remove stains from car seats, especially if your vehicle doesn't have heavy-duty detergents or cleaning products. We often refer to Steam Cleaning as our "secret weapon" for serious car washes.
A high-quality steam cleaner can be used to blow hot water deep into the fabric surfaces of your seats, which is a excellent way to remove deep-set dirt and grime from older seats.
The steam's high temperature (around 245 Fahrenheit) combined with the machine's power blasts away stains and harmful organisms such as viruses, bacteria, mold, mildew, and other pathogens. This is an excellent way to deep clean your home without spending hours scrubbing.
If the stain isn't going away with steam alone, you might try using a soft-bristled brush to remove it. You should then open the windows and allow the seats to dry naturally.
5. Wash with Laundry Detergent
Are you unable to use a steamer? A liquid detergent or powdered detergent can be used on the spot. You can mix the detergent with warm water in a bowl. Then, pour the solution onto your stain and allow it to sit for a while. You don't need to cover the entire car seat with detergent.
Let the solution sit for about 10 minutes. Then, you can use a soft cloth to scrub the area. The stain will likely have lifted slightly. Use a second, cold-water-soaked cloth to clean the seat. Let the car seats air dry again with the windows open.
6. Baking soda is a good choice.
Baking soda is another DIY method to remove stains from car seats. Baking soda is an inexpensive, effective way to clean and deodorize stained seats.
Combine a quarter cup of baking soda and warm water until you get a sticky, goopy solution similar to icing. Next, take a toothbrush and apply this solution directly to the stain. Gently rub the stain in a circular motion. The bristles of the toothbrush will remove the stain from the seat.
You may need to allow the baking soda solution to sit for 30 minutes before you scrub the stain. After you are done, use a clean cloth to remove any residue. Dry the area.
7. Use Nail Polish Remover
Leather car seats may require more special treatment than cloth. Although it might seem harsh, acetone nail polish remover or rubbing alcohol is one of the best DIY methods for removing a leather stain. This tip is handy if you have to deal with permanent marker stains on your seats, perhaps from a toddler who has a Sharpie and is too eager to use it.
Use a cotton ball to apply nail polish remover. Then, blot (don't scrub) the stain from your leather seat. The stain should begin to lift rapidly. After the stain has been lifted, wash the seat with warm water.
One word of caution: Some nail polish removers can leave traces of bleach on fabric and have a bleaching effect. After the stain has been removed, be sure to carefully monitor it.
8. Try Store-Bought Solutions
If none of those mentioned above home remedies work, you can buy a specific product made explicitly for this purpose. Many upholstery cleaners are available at your local auto shop or convenience store.
You will need to spray the cleaner, allow it to sit for about five minutes, and then wipe it off with a damp cloth. Be careful when spraying heavy-duty cleaners within a small area. We recommend that you do this with your garage windows open.
9. Freeze Stubborn Materials Off
This tip applies more to sticky stains than old, faded spots. You may need to freeze your cloth car seat if you have chocolate or gum.
Make an ice pack with several ice cubes. Then, stick them to the stain. The materials will freeze for a while, but once they have, they should be able to come off. To remove the hardened materials, you can use a butter knife.
10. Hire a professional auto detailing company
The final tip we have is to call in professionals when needed. If the stain persists after you have tried everything, you might consider hiring car detailing services. The cost of car detailing is negligible compared to the benefits of removing undesirable stains.
You can also purchase the same equipment and tools that professional auto detailers use, but you won't have the experience. Professional auto cleaners can offer the knowledge and hours of dedication required to tackle certain stains.
Do you need help getting stains out of car seats?
Montana Auto Pros can help you remove the most stubborn stains from your vehicle. You can book your detailing online or request a custom quote that meets your needs. Our professional detailers will then come to you.
Our cleaning crews are held to a high standard, and we take our job seriously. You can be sure that Montana Auto Pros mobile detailing will thoroughly clean your vehicle when you book a car detailing service.
To get started, schedule your appointment online. 509-881-7576 can be reached for any questions regarding our services or prices. You don't have to live with this stain forever. Let us make sure your car feels shiny and new again!
Auto Detailing Services in Montana
Call or text to book your appointment for the best Mobile Car Wash & Detail in Helena, MT & the surrounding areas of Montana.