~ 5 min read
How Much Does Car Detailing Cost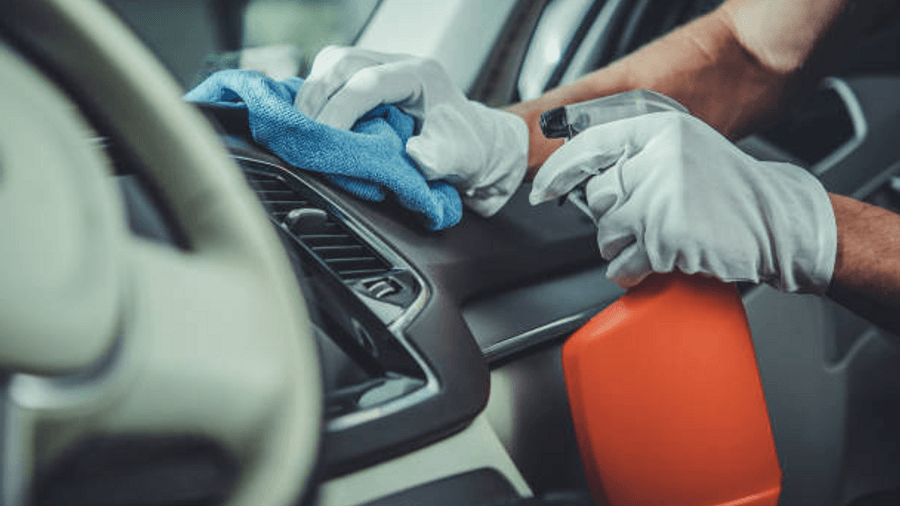 Protecting your investment in an automobile is as simple as car detailing. While regular drive-thru washes will make your car shine, they may not consider all the nooks or crannies of your vehicle and top-notch services such as waxing.
You should schedule a detailing appointment yearly to remove scratches and protect your vehicle's appearance. How much does each detailing session cost?
This is the question we are answering today. Continue reading to learn more about car detailing and the average price of detailing. Also, what you can do to ensure you get the services you want.
What is Car Detailing?
Any detailing appointment should aim to restore your vehicle to a "like-new" condition. Detailing services are more than a simple wash using a machine.
Hand detailing is the most common method of auto detailing. Professional cleaners can improve the appearance of your vehicle from the inside out with intensive washing, vigorous vacuuming, and waxing. Detailers can also clean your vehicle's engine bay, wheels, and headlights.
Since car detailing is done by hand and achieves a thorough clean that can't be achieved with automated or machine washes. The client may also request drying, sealing, waxing, and polishing. You can also look into special glass cleaning, steam cleaning, and leather trimming.
Why Auto Detailing Is Important for All Cars
They preserve your vehicle's value and not only improve its appearance. Experian (the credit bureau) lists maintaining the vehicle's exterior and interior as one of the best ways to keep its monetary value even though it naturally declines.
The protection of automobile paint is provided by waxing. This service is often included in detailing sessions. A dressing that protects plastic materials can be purchased to preserve its original appearance.
Car detailing is a process that removes stubborn stains and unpleasant odors. This makes your car more fun for passengers and drivers and prevents costly problems from happening in the future.
How often do I need to detail my car?
Experts recommend detailing your vehicle a minimum of once per year. It is best to detail your vehicle every six months, if not more often. This will prevent dirt and damage from building up. To protect your paint against scratches and contaminants, you should apply a coat on your car with wax at least twice a year.
The frequency you need to detail your car will depend on where you live. You may need to detail your vehicle more often if you live near salt roads or where there is much snow.
We recommend that you detail your vehicle at least once every three to four years in Helena, Montana, & the surrounding areas. This is the best way for your car to withstand harsh winter conditions and coastal weather.
What is the Car Detailing Costs?
We get most frequently asked the question, "How much does car detailing cost?" Many people fear that more thorough car detailing will be extremely expensive. But that is not the case.
Research from Yelp cost guide shows that an average (rudimentary) car detailing session costs $160. Detailing can run from $100 to $300+ per session, depending on the requested services (waxing or steam cleaning, etc.). You can also influence the cost by your vehicle's size and whereabouts.
At Montana Auto Pros, we charge $220 to provide a high-level ultimate detailing session. This is more than what an average detailing service usually includes. Our interior and exterior detailing sessions start at just $150. You can upgrade to add specialty services.
What makes our services different from the rest? Well, we:
Provide mobile services that are highly convenient throughout the Helena, Montana region
Focus only on 1-3 vehicles per day (quality over quantity).
Provide a FREE CARFAX Report upon request
Contact our team today if you have questions about our services or prices.
How to Choose the Best Car Detailing Service
Let's now talk about how to choose the best detailing service for your vehicle.
You want to take the best care of your car by hiring a professional car cleaner who uses only natural and safe products to clean it. Also, look for companies that:
Hand wash using grit guards
Use microfiber & chamois towels
Polish by hand expertly
Make sure to clean and dress your wheel wells
Paint can be cleaned of dirt and bugs
Note: Cost is an important consideration, but it is not the only one. Choosing a detailing company you can trust to care for your - vehicle is essential, even if it means spending a bit more on your car wash.
Are you ready to have your car detailed by professionals?
You want your car to look shiny and new for years to come. Schedule your next auto detailing appointment. Our team is available to help you polish imperfections and professionally maintain your car's paint.
About Montana Auto Pros
At Montana Auto Pros, our professional-grade detailing team is all about you. We bring our supplies and services to your home or workplace, where we perform high-quality cleanings. We can handle everything, from stubborn stains to scratches. Just tell us what you need.
We strive to provide the best car detailing services and protect the environment. While striving to achieve an impressive, "like new" level of cleanliness.
Look at our four cleaning packages to help you decide which car wash level you require. We are happy to do a simple wash and vacuum or provide more complex services such as waxing and steam cleaning. Our cleaning services are high-quality and flawless. We are one of the best auto detailers in the region.
Montana Auto Pros have been cleaning cars in the Helena, MT and Montana areas since 2022 and has a solid local reputation. We are confident that we can handle any job you give us, call 509-881-7576 to learn more. You can also book your next mobile detailing online.
Auto Detailing Services in Montana
Call or text to book your appointment for the best Mobile Car Wash & Detail in Helena, MT & the surrounding areas of Montana.